2015年4月25日にネパールを襲った大地震は建物の倒壊だけでなく、雪崩や土砂災害など国全体に大きな被害をもたらしました。
いまだ支援の届かない農村の小学校再建プロジェクトに協力するため、イランからの留学生で国際教養学科GSEメジャー3年生のアイソダ・アジダリさんと学生有志があやめ祭でチャリティうどんを販売、約70,000円の売り上げをプロジェクトに協力しているNPO法人ANT-Hiroshimaに託しました。ANT-Hiroshimaは4月にネパールに渡航予定です。
以下、アイソダさんからの報告を掲載します。
---------------------------------------------------------------
On April 25th 2015 an earthquake hit Nepal. This incident brought huge amount of damage to Nepal which is categorised as a Least Developed Country. Nepal was on a rapid improvement in terms of living standards, but the earthquake has now slowed down national improvement plans of Nepal.
We as global citizens had to take an action to support Nepal earthquake victims. Since I am taking GSE classes I have learned a lot about international development and aid programs. I came up with a project plan with the help of my lecturers and I formed a group to help me with this project. It took a year to execute this plan but with help of many kind people, and of course God's blessing, we could succeed.
We believe that education is important for development of a country; we decided to help with reconstruction of a school in rural area Nepal. Majority of rural areas of Nepal are located in mountainous regions, it's hard to transport earthquake relief there, and therefore they are often neglected. To help Nepal, we needed guidance from experts. We partnered with 'ANT Hiroshima NGO' to help us with transferring money to Nepal from Hiroshima, and we also partnered with 'Build Up Nepal NGO' which will use our donation to build a school in one of the neglected rural area, Jyamrung village.
We then looked for ways to raise fund for reconstruction of one classroom in this village. We participated in Ayame Festival at HJU to sell Nepalese taste Udon, using Gram Masala. Many people came and we sold all of our Udons. Many kind people also gave us extra money for donation. We rose 70,000 yen through sales and donations. All the money will be transferred to 'Build Up Nepal NGO' through 'ANT Hiroshima NGO' in the month of April.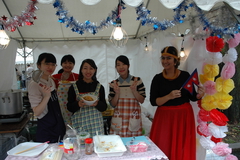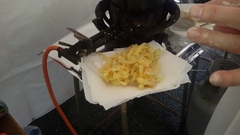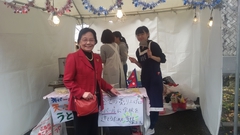 President Minato stopped by and enjoyed Udon!
Next Report will be after April. We are looking forward to next phase of the project.