Student Activities and Projects
Student Activities
HJU students will have many opportunities to volunteer and attend workshops and seminars. The university gives information about various events, which are sometimes in Japanese or English. GSE students are especially encouraged to participate in activities that require English skills, so they can practice in the real world. Here are just a few examples:
Around Hiroshima
---
Flower Festival Volunteer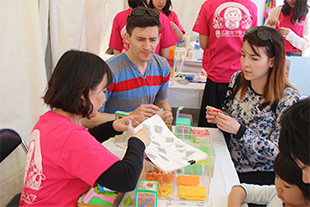 The Flower Festival is one of the biggest events in Hiroshima. It has been held every year since 1977, and 2016 was the 40th anniversary. The festival aims to promote peace and encourage communication through music and flowers.
HJU students have participated in it as volunteers to make paper cranes with attendees. Students ask people to make "Orizuru" or a paper crane, which is a symbol of peace and prayer. Bunches of a thousand paper cranes are dedicated on the cenotaph for A-bomb victims in the Peace Memorial Park.
Harvesting Volunteer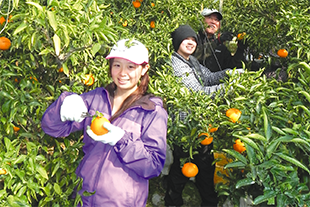 This volunteer work is to help local farmers plant and harvest their crops. Aging of farmers is a problem in Japan, so the help of university students is needed. After the activities, students can often get fresh vegetables and fruits to take home!
Overseas
---
YMCA Philippine Volunteer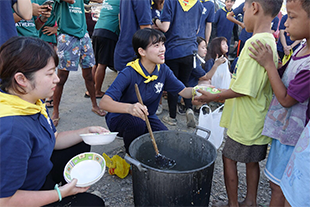 This volunteer opportunity takes place on Cebu Island, which suffered from a big typhoon in 2013. Participants are from Cebu YMCA, Honolulu YMCA, and universities in Hawaii, as well as Hiroshima YMCA. And participants are able to take part in various projects. For example, some volunteers help with soup kitchens for homeless people and street children. In Mactan Island, others can study about environmental conservation. This is a great program for students interested in working in developing countries.
Students' Projects
As a student, you will learn about global issues and the importance of taking action. Therefore, you may want to start your own project during university. Here are some examples of projects which students are participating in both on and off-campus.
Environmental Protection Project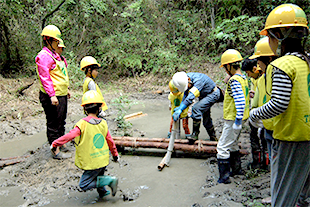 This student-led project, allows students to work on environmental maintenance in the Ushita Mountain near the HJU campus. This area used to be well maintained, however, it has been abandoned for a while. Project members work with primary school students to improve the local environment. They work together to thin bamboo trees and create new habitats, in order to give primary school students a better appreciation and understanding of the natural environment. Members are responsible for finding sponsors and communicating with the Board of Education and City Hall to implement activities. In 2017 they are planning to expand their activities to Etajima Island in Hiroshima.
Skills You Can Gain: Leadership, Planning, Coordinating events and people, Educating, Communication
Contribution in Local Cross-Cultural Exchange Programs
Hiroshima is one of the widely known cities and popular tourist destinations for the rest of the world. As it has two designated World Heritage Sites (Itsukushima and the A-bomb Dome), it's no wonder that hundreds of thousands inbound tourists as well as researchers who attend international conferences visit Hiroshima every year.
Such characteristic features offer GSE students various opportunities to be a part of events rich in international flavor.
International Conference Operating Volunteer
Hiroshima City is one of the best qualified cities for international events where you can expect well equipped convention facilities, a wealth of accommodation and tourism resources. That's why the city is chosen as the location of international conferences and cultural programs.
Information Booth Staff for Cruise Ship Passengers
As tourists knowledgeable about Japanese affairs have increased, cruise ships tend to anchor at local ports to satisfy the passengers curiosities about the country in the Far East. English speaking volunteers are increasingly being sought to contribute to waterfront hospitality.
Peace Memorial Park Guide
To serve to win the understanding of Hiroshima's legacy HJU students show overseas tourists around the Peace Memorial Park on August 6.