Student Activities and Projects
Student Activities
HJU students will have many opportunities to volunteer and attend workshops and seminars. The university gives information about various events, which are sometimes in Japanese or English. GSE students are especially encouraged to participate in activities that require English skills, so they can practice in the real world. Here are just a few examples:
Around Hiroshima
---
Flower Festival Volunteer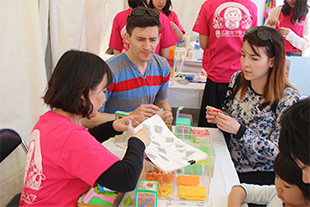 The Flower Festival is one of the biggest events in Hiroshima. It has been held every year since 1977, and 2016 was the 40th anniversary. The festival aims to promote peace and encourage communication through music and flowers.
HJU students have participated in it as volunteers to make paper cranes with attendees. Students ask people to make "Orizuru" or a paper crane, which is a symbol of peace and prayer. These Orizuru are then sent to the Peace Memorial Park for the A-Bomb anniversary on August sixth.
Harvesting Volunteer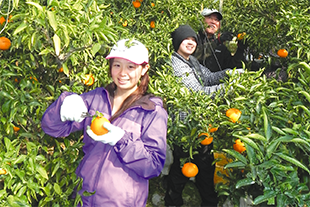 This volunteer work is to help local farmers plant and harvest their crops. Aging of farmers is a problem in Japan, so the help of university students is needed. After the activities, students can often get fresh vegetables and fruits to take home!
Hiroshima-Iran Love & Peace Film Festival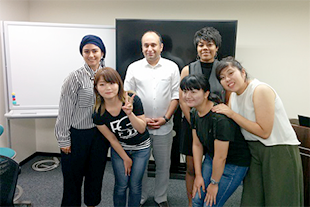 In 2016, five GSE students attended Hiroshima-Iran Love & Peace Film Festival and had an opportunity to meet the famous Iranian filmmaker, Maziar Miri. He lectured about what making films in Iran is like, including various topics, like censorship, gender, family, and culture. Students learned the power of media, and how films are important in society.
Visit of Denmark Ambassador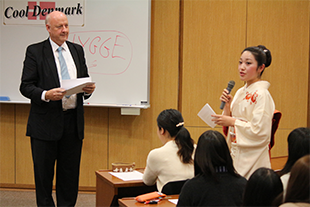 In 2015, the Denmark Ambassador to Japan, Freddy Svane, visited HJU and we had a cultural exchange meeting. He lectured about Denmark and then students had a chance to ask questions about welfare, the tax system, energy policy and the working environment in Denmark. All sessions were conducted in English, and two GSE students attended as the facilitator and interpreter for the event.
UNITAR Public Sessions
UNITAR Hiroshima regularly holds public sessions to which everyone can apply. The topics of the sessions vary, such as women's leadership, sustainable development, nuclear disarmament and so on. They are conducted in both English and Japanese. The sessions will have scholars, diplomats, and politicians as guest speakers. It's a great opportunity to pursue your interests, and students are always welcome to attend!
Overseas
---
YMCA Philippine Volunteer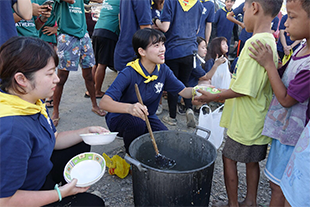 This volunteer opportunity takes place on Cebu Island, which suffered from a big typhoon in 2013. Participants are from Cebu YMCA, Honolulu YMCA, and universities in Hawaii, as well as Hiroshima YMCA. And participants are able to take part in various projects. For example, some volunteers help with soup kitchens for homeless people and street children. In Mactan Island, others can study about environmental conservation. This is a great program for students interested in working in developing countries.
Cambodia Study Tour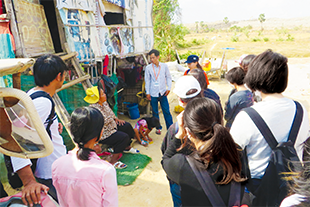 This was a 7-days program organized by HJU and World Vision Japan. Participants visited Siem Reap, Poipet, and Phnom Penh. Activities allowed students to better understand the challenges faced by Cambodia. Students visited the border, heard about the experiences of human trafficking victims, visited the killing fields, trash heap, and hospitals, and got a firsthand look at the lives of locals.
Students'Projects
As a student, you will learn about global issues and the importance of taking action. Therefore, you may want to start your own project during university. Here are some examples of projects which students are participating in both on and off-campus.
Environmental Protection Project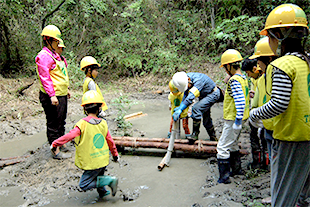 This student-led project, allows students to work on environmental maintenance in the Ushita Mountain near the HJU campus. This area used to be well maintained, however, it has been abandoned for a while. Project members work with primary school students to improve the local environment. They work together to thin bamboo trees and create new habitats, in order to give primary school students a better appreciation and understanding of the natural environment. Members are responsible for finding sponsors and communicating with the Board of Education and City Hall to implement activities. In 2017 they are planning to expand their activities to Etajima Island in Hiroshima.
Skills You Can Gain: Leadership, Planning, Coordinating events and people, Educating, Communication
Suitou Girls Project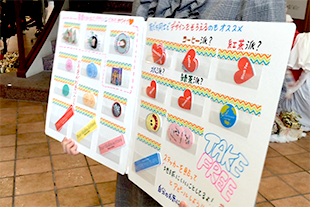 This project started to help global climate change, and is 100% student-run. The project members promote suitou (water bottles in Japanese) to reduce the use of plastic bottles and cans from vending machines. If more people started to use their water bottles and stop buying from vending machines, we can save natural resources and electricity. Also, this project is aiming to change people's consciousness about their daily attitude towards the natural environment. The activities include collecting data on plastic bottle use, advertising, communication and SNS.
Skills You Can Gain: Global thinking, Leadership, Planning, Communication
Fundraising for Nepal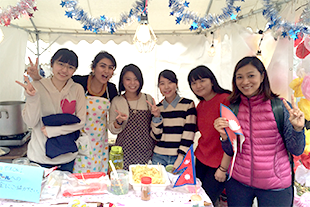 This student-initiated project aimed to raise money to build a school in Nepal. In 2015, an earthquake killed approximately 9,000 people and left many injured and homeless in Nepal, especially in rural areas. As global citizens, project members felt that they should help Nepal citizens who have been affected by this horrible incident. Members sold udon noodles at the university festival and raised more than $610 in two days. These funds were sent to Jyamrung village in Nepal to reconstruct a school in partnership with ANT Hiroshima and Build Up Nepal.
Skills You Can Gain: Global thinking, Planning and organizing events, Coordinating volunteers, Working with NGOs, Leadership, Communication