English Language and Culture Course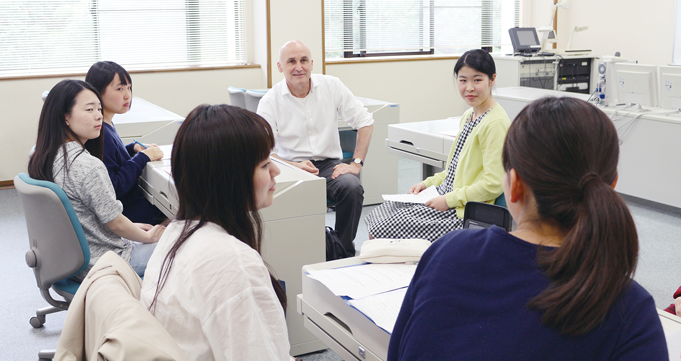 Our curriculum is designed to produce students with an international outlook. Students achieve this over the four years by gaining English skills, multicultural understanding, and continuously forming ideas about their future career and life goals. In the first 2 years, students take a comprehensive package of English skills classes before moving on to more specialized study in English language education, British & American literature, British & American culture, and linguistics.
Special Points of Interest
1. Core English Skills through Our Step-up English Program
The Step-up English program is a comprehensive English learning program based on CEFR (Common European Framework of Reference for Languages). During 60 weeks of English classes over the first two years of university life, students are led through 20 stages of carefully coordinated language learning. Students work on communicative skills, vocabulary building, grammar structure and language in use. Through a series of small tests at each stage of the process, common problems are identified and a thorough review system is implemented.
2. Teacher's License Program
In the English Language & Culture Course, students can take classes on campus throughout the four years that will enable them, upon graduation, to get a junior high school or high school teaching license qualification. In the fourth year, students get experience by going out to complete a teaching practicum at a local junior high school or high school.
3.
Chiiki Renkei

Seminar (Community Link Seminar)

The focus of this seminar is making links with the local community and beyond. Students carry out projects such as teaching English to local elementary school children (Ayame Juku), translating menus and maps for local businesses, or acting as English guides in the Hiroshima area.
4. Certificate for Teaching English to Young Learners
This is an HJU certificate presented to students who have completed more than 20 credits in subjects connected to teaching English to young learners.
Qualifications to Aim for
Junior High School & High School Teaching License
Librarian
Museum/Gallery Curator
Teacher of English to Young Children
Jobs to Aim for Include
Flight Attendant & Other Airline Employees
Hotel Industry
Tourism Industry
Junior High School & High School English Teacher
International Companies
Trading Companies
NPOs