Global Studies in English (GSE) Undergraduate Program
International students can earn their degrees by taking English-taught courses in the GSE program. GSE is the academic study of social, cultural and political relationships in the world. In this course, students take almost all of their classes in English. This course will enable students to gain global thinking, cross-cultural understanding, and leadership skills, which are essential for their future.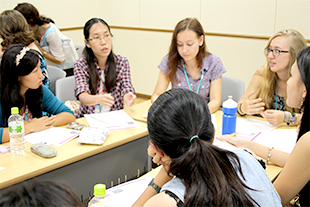 GSE Students Can Get…
1.

A high level of spoken and written English

2.

Cross-cultural understanding, in order to become true global citizens

3.

Leadership skills and self-confidence through practical experience that is part of the GSE curriculum

Learn More about GSE
The GSE curriculum is designed to give students the opportunity to understand the interconnected nature of the world's problems, and begin to develop creative solutions.
Classes are taught by native English speakers, and include both Japanese and international students. The GSE program offers small class sizes and excellent student support.
Students are encouraged to take advantage of a variety of overseas activities, such as Global Village Field Experience and Study Abroad.
Graduates are well prepared to find a job in a variety of fields, or continue their studies in graduate school. Employers are impressed with their English ability, skills & maturity.
Students have many opportunities to volunteer and are invited to attend workshops and seminars.
For international students, HJU offers entrance exams for admission to the GSE program.
HJU provides scholarships for international students. Financial assistance can reduce their financial burden and make it possible for them to study in Japan.
HJU assists international students with scholarships, maintaining legal status in Japan and through inviting them to participate in various cultural exchange activities.
Japanese language classes are available for international students based on their local language proficiency (basic, pre-intermediate and intermediate).