President's Message
The Mission of Hiroshima Jogakuin University
From the time of its founding based on Christian principles, Hiroshima Jogakuin University has endeavored to educate women able to make full use of their own rational judgment to be responsible citizens in whatever position they take on in society. As responsible world citizens, our students and graduates will accept with understanding all people they encounter across national boundaries and cultural differences.
In order to actualize these educational aims, we have two faculties - one conceived of as a college of liberal arts and the other as a college of professional arts. Our goal is to train students to deepen their understanding of humanity while developing global perspectives and to gain a high degree of expertise as they obtain certification and licensing in various fields to serve society.
In addition, core curriculum courses covering writing and oral presentation, computer literacy, and career planning provide students with ways to gain life skills which will help them throughout their lives. Also, courses in women's history and internships are offered for students to gain a better understanding of themselves, their society, and their world. To be sure, there are courses of particular interest related to Hiroshima such as peace studies, as well as overseas study programs and overseas internships.
Hiroshima Jogakuin University exists for women. Women are the main players. We provide opportunities for students to search within their hearts and minds, to raise their skills and to gain the confidence to grow to become leaders in society. Our Empowerment Center serves graduates at any time as they traverse through life, whether it be about career, marriage, raising children, or becoming a caregiver.
A 21st century women's university must not only provide ways to acquire far-reaching knowledge and professional expertise; it must educate citizens to act with a strong sense of justice and personal integrity.
To educate and graduate women with all these strengths. This is our mission.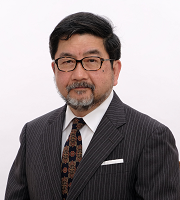 Takayasu MITANI, President