Department of Japanese Language and Culture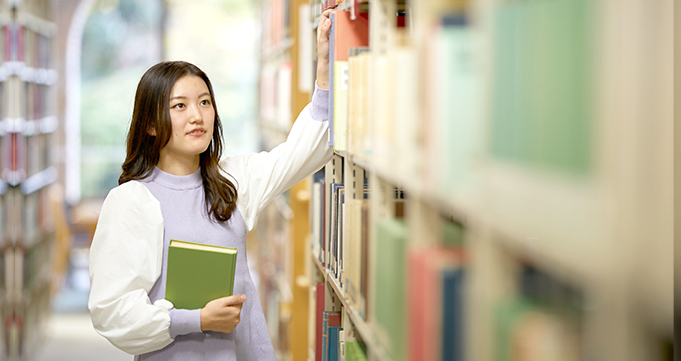 Students in the department study and experience Japanese culture through fieldwork in Japan, or by sharing their knowledge with others through presentations in Japanese and English. Students can improve their skills by sending out an appeal of Japanese culture to rest of the world. Students are expected to be able to understand subtext messages woven into the social context by carefully studying the vocabulary and sentences related to current topics on Japanese culture. Through completing a major in this department, students naturally develop their communication skills as members of society, which is to their advantage in the job-hunting process.
Special Points of Interest
1. Enhance the Power of Language to Connect with Society
One of the competitive advantages after entering the workforce is having a developed 'power of language'. Students are encouraged to take tests relating to Japanese vocabulary and reading comprehension, including practical vocabulary, communication strategy and logical reading.
2. Complete Understanging of Japanese Culture
Needless to say, students will see and feel the differences between the culture in Japan and the rest of the world. Through their improved English skills, students can convey their thought to rest of the world.
3. Students Are Adequately Equipped for the Job Hunting Process
The Faculty and Career Support Center jointly start programs to assist students with the job-hunting process starting from the end of the freshmen year. Career support programs give students necessary advice and support for those applying for jobs in financial, ad, publishing, broadcasting, retailing industries and others. We try to provide better support for the students who seek professional careers, such as, Japanese teacher, Japanese language instructor and librarian.
Qualifications to Aim for
Junior High School & High School Teaching License
Japanese Language Instructor
Teacher of English to Young Children
Museum/Gallery Curator
Librarian
Jobs to Aim for Include
Japanese Language Instructor
Junior High School & High School Japanese Teacher
Writer
Financial Industry
Advertisement Industry
Publishing
Broadcasting
Retailing Industry