Department of International English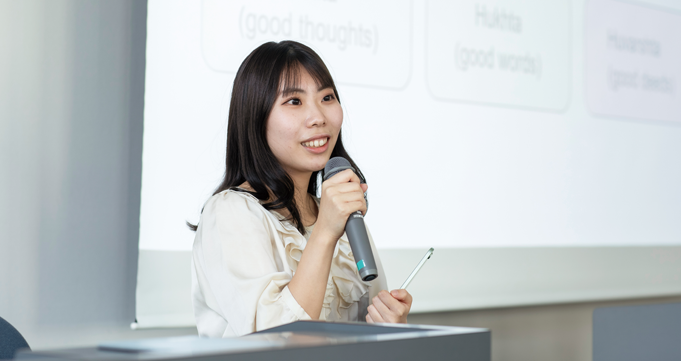 The Department of International English consists of two programs - the Global Studies in English (GSE) Course and the English Language and Culture Course.
Our curriculum is designed to produce students with an international outlook. Students achieve this over the four years by gaining English skills, multicultural understanding, and continuously forming ideas about their future career and life goals.
Special Points of Interest
1. Improve English Skills through Small Class Sizes
The department emphasizes the importance of English speaking ability. In the GSE course, nearly all subjects are taught in English, most are taught by native speakers of English, and the average class size is about 10 students. In the English Language & Culture course, students build up core English skills by taking classes with native speakers five times a week. Classes are split by level, and the special attention given to students due to the small class sizes helps our students develop cultural awareness and an international outlook. Students also take part in our comprehensive Step-up English program based on CEFR (Common European Framework of Reference for Languages). (See English Language & Culture Course webpage for more information)
2. One to One Guidance for All Students Once a Week
It is sometimes challenging for students to navigate their way through the beginning of their university life. For this reason, the International English Department has weekly one to one guidance sessions outside of the classroom with the department's teachers. In these sessions students can get advice (tailored to each individual's needs) on all aspects of English study, life at university, and career goals.
3. Plenty of Study Abroad Opportunities
Students can take advantage of the many opportunities for study abroad. These include: (Year 1) Global Village Field Experience (SE Asia) and Study Abroad Short Program (USA); (Year 2 summer) Study Abroad (UK); (Year 2 Semester 2) American Internship Program; (Year 2 or 3) 6-month or 1-year Study Abroad programs.
4. Career Study Program
This three-semester program is similar in style to a seminar class. Small groups of approximately 10 students work with a teacher on materials connected to a career that interests them. Students study a variety of content in the area of interest, and then work on actively producing materials and presenting their ideas. Areas of study include careers in airlines, the hotel industry, tourism, teaching, mass media and journalism. The program is designed to provide students with knowledge, skills and Internship experiences to prepare them for their future careers.
Qualifications to Aim for
Junior High School & High School Teaching License
Librarian
Museum/Gallery Curator
Teacher of English to Young Children
Jobs to Aim for Include
Flight Attendant & Other Airline Employees
Hotel Industry
Tourism Industry
Junior High School & High School English Teacher
International Companies
Trading Companies
NPOs