Curriculum
Global Studies in English (GSE) Curriculum
The GSE curriculum is designed to give students the opportunity to understand the interconnected nature of the world's problems, and begin to develop creative solutions. This interdisciplinary program includes courses in many subjects, such as economics, culture and politics. In addition, skills-based courses, like Research & Debate, Intercultural Communication and Interpreting, ensure students are prepared to work in a bilingual environment.
Classes are taught by native English speakers, and include both Japanese and international students. The GSE program offers small class sizes and excellent student support.
Curriculum pdf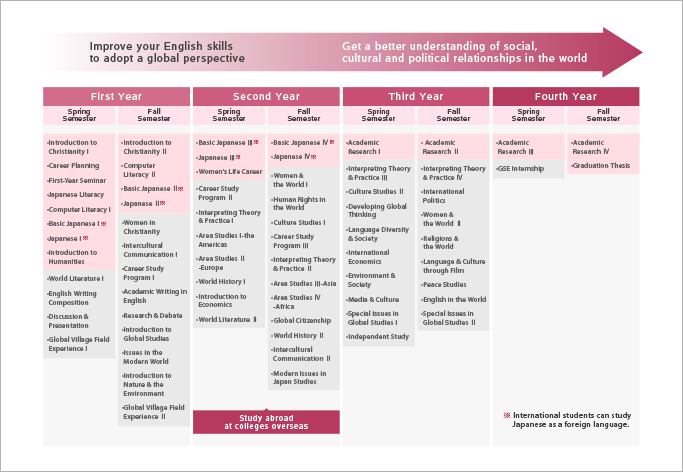 Graduation Theses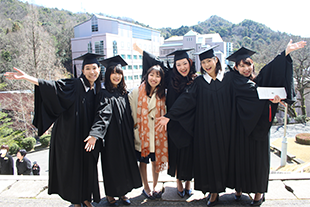 All GSE students write a unique and interdisciplinary graduation thesis. Students can write in English about a variety of topics. Previously, students have focused on a topic they are passionate about and produced excellent work.
Some Topics Include:
Policies for Prosperity in China: Democracy as the Champion of Human Rights?
Tackling Thirst: Innovative Strategies to Provide Drinking Water to India's Slums
Doomsday is Coming: Deforestation, Development and Indigenous People in Brazil
A Brighter or Flawed Future? Understanding Blood Diamonds and the Resource Curse in Sierra Leone
The Loss of Innocence: Unfolding the Complexity of Child Soldiers in the Philippines
Can Olympic Dreams Come True? Gender Equity and Japan's Opportunity for Global Leadership in the 2020 Games